The airport at Kai Tak was relocated to Chek Lap Kok in July 1998. The relocation has offered a good opportunity for major development in the Metro Area.
A Feasibility Study was completed in 1998 followed by a revised scheme in 2001 based on the public concerns over harbour reclamation. Nonetheless, the Court of Final Appeal's ruling of January 2004 states that any proposed reclamation could only be sought in the "overriding public interest". As a result, Government in 2004 commissioned the Kai Tak Planning Review with "zero reclamation" as the starting point to carry out an extensive 3-stage Public Participation Programme, arriving at a Preliminary Outline Development Plan (PODP). After rounds of public consultation and with the guidance of the Town Planning Board, the statutory Kai Tak Outline Zoning Plan (Kai Tak OZP) was formulated in 2007 with subsequent changes made in 2009. By taking into account public's aspirations to preserve the Lung Tsun Stone Bridge remnants in-situ and to have better access to the precious harbourfront spaces for public enjoyment, subsequent amendments reflecting urban design planning enhancement were approved in 2012 and manifested in the Kai Tak OZP (S/K22/4). In response to the new planning circumstances, societal needs and public aspirations, further amendments were made and approved in 2018 and were manifested in the latest Kai Tak OZP (S/K22/6).
Environmental Impact Assesment (EIA) Report was submitted under the Environmental Impact Assessment Ordinance (EIAO), which demonstrates that Kai Tak Development (KTD) will comply with environmental standards and legislation after mitigation measures for the construction and operation stages are implemented. The EIA Report was approved on 4 March 2009.
Kai Tak Development is a huge and highly complex development project spanning over 320 hectares with the largest available land fronting Victoria Harbour. It offers opportunities to bring the harbour to the people, provide quality living environment for around 90 000 residents, as well as revitalise all of the surrounding districts such as Kowloon City, Wong Tai Sin and Kwun Tong. What's more, KTD seeks to practise sustainable development and cultivate a comprehensive network of parks and gardens for everyone to enjoy.
The planning vision of KTD is to develop "a distinguished, vibrant, attractive and people-oriented community by the Victoria Harbour".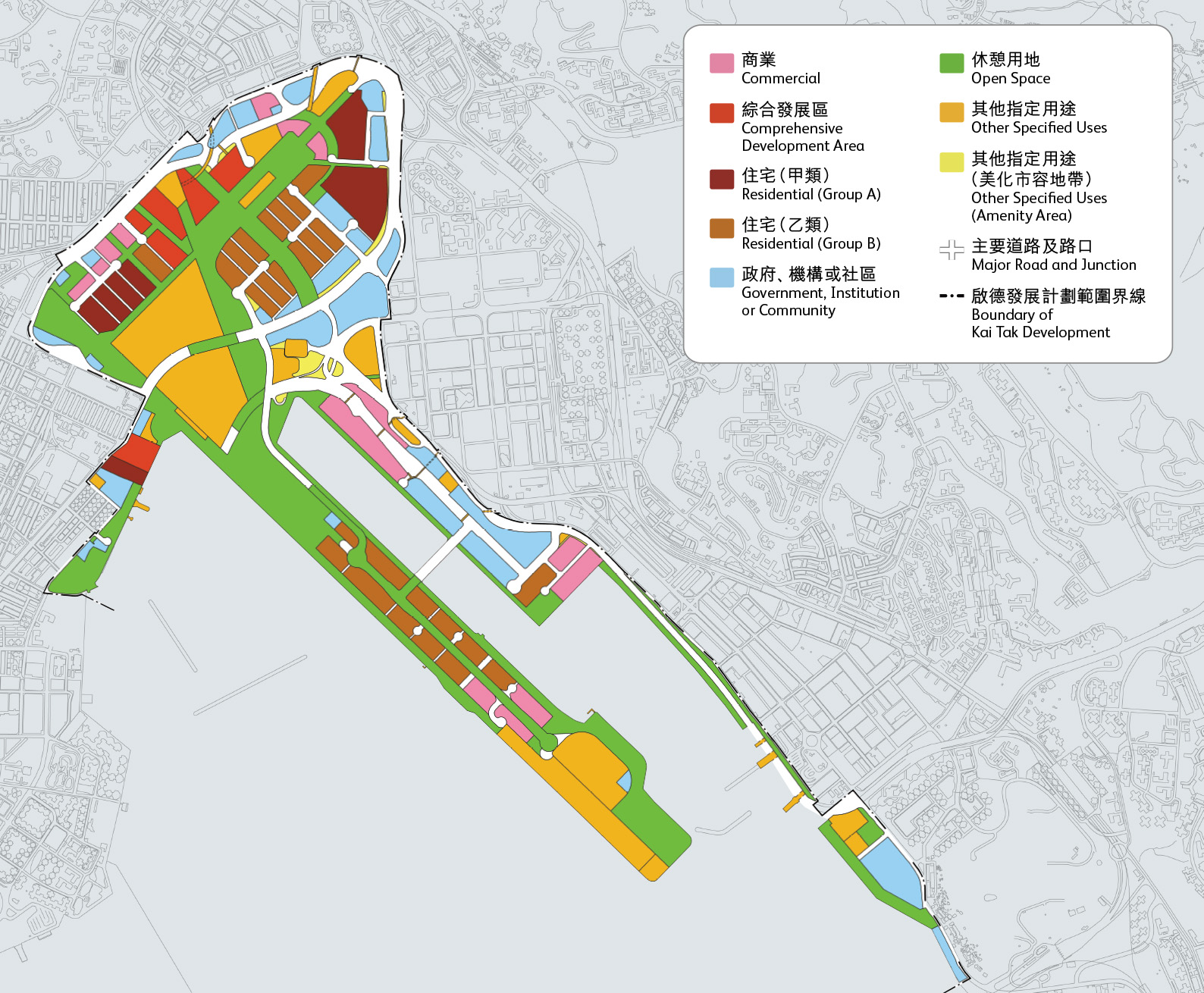 Source : Town Planning Board (http://www.ozp.tpb.gov.hk/default.aspx)
Kai Tak Outline Zoning Plan